I'm an economist. My areas of expertise are the economics of innovation; economic development and regional economics.
I am Professor of Economics in the Department of Political and Social Sciences at the Università di Pavia in Italy. I am currently working on a research project on multinationals from emerging countries investing in Europe funded by Riskbankens Jubileumsfond.
I regularly advise international organizations such as UNIDO,UNCTAD, IADB, OECD and the European Commission on questions related to economic development.
In the spotlight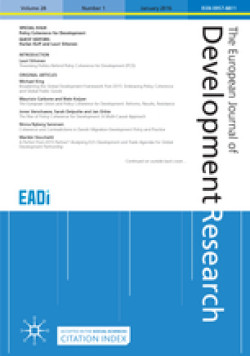 The European Journal of Development Research special issue addresses whether, and under what circumstances, the globalisation of economic activities creates new opportunities for capabilities formation in developing countries – or conversely, whether and under what circumstances the widening and deepening of economic globalisation becomes a hindrance for building up the required innovation capabilities.
Guest editors:
Rasmus Lema (Aalborg University)
Roberta Rabellotti (Università di Pavia)
Padmashree Gehl Sampath (UNCTAD)
Deadline for extended abstract submission: 31 October
Download the full Call for Papers for further details and information on how to submit your paper.
Presentations

Overcoming Fragmentation: Clustering in the Caribbean – Opportunities and Challenges
On 22nd of November in Bridgetown – Barbados – Prof. Rabellotti participated in a round table about clusters in the Celebration & Stocktaking Event organised by Compete Caribbean.
Here you can download the final report on Clusters in the Caribbean.

Italian Clusters Today
On the 13th of October Prof. Rabellotti gave a talk at the ClusDev MED Workshop Utrecht University.
Media

Prof. Rabellotti talks about Global Value Chains and Innovations Systems in a recent Globelics video.
Publications

5 most highly cited in China Economic Review

, 27: 312-325
The article is co-authored with Alessia Amighini and Marco Sanfilippo.
We empirically analyse the host country determinants of Chinese outward foreign direct investments (FDI) for the years 2003 to 2011, using disaggregated data by country and industry. Our aim is to assess the relevance of market seeking, resource seeking and strategic asset-seeking motivations as suggested by the theory on host country determinants of FDI.

Top Cited in World Development

9(7): 1261-1269
The article is written with Carlo Pietrobelli.
The Innovation Systems (IS) literature tends not to emphasize the crucial impact of international knowledge and innovation exchange and collaboration through, for example, inter-firm and intra-firm networks and Global Value Chains (GVC). In developing countries this aspect is crucial, with integration in GVC playing a growing and very important role in accessing knowledge and enhancing learning and innovation.