In the spotlight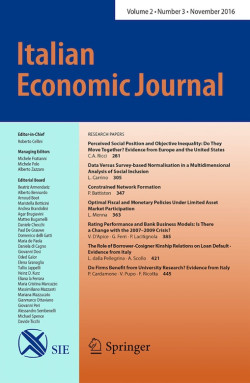 The Italian Economic Journal (ItEJ) has new editors and a renewed editorial board. ItEJ encourages and disseminates high-quality research on the Italian and the European economy. The journal welcomes applied and theoretical papers on relevant and timely issues concerning the European and Italian economic debate.
Editor-in-chief:
Luca De Benedictis
(Università di Macerata)
Editors:
Roberto Cellini
(Università di Catania)
Donato Masciandaro
(Università Bocconi)
Roberta Rabellotti
(Università di Pavia and Aalborg University)
Presentations

Global value Chains and Development
In December I was invited to lecture at the Master of International Cooperation and Development at the Mid Western University in Kathmandu.
Here are the slides of my lectures

Global Value Chains and Local Sourcing: An empirical analysis on Sub-Saharan Africa and Vietnam
I presented a paper co-authored with Vito Amendolagine, Andrea Presbitero and Marco Sanfilippo in June at the Sase Conference in Lyon, in October at Globelics in Athens and SIE in Cosenza and in December at the Global Production Networks in Singapore. At EIBA in Milano we were awarded the prize for the best paper in the track International Business and Economic Geography.
Here is the presentation.

Becattini's legacy and the globalization of industrial districts
In October I was invited to take part at the round table on Becattini's Legacy: Industrial Districts and Clusters organized by the Società Italian degli Economisti in Cosenza.
 Here is my intervention
Media

Publications

Do Global Value Chains Offer Developing Countries Learning and Innovation Opportunities?
With Valentina De Marchi and Elisa Giuliani I published an article in the European Journal of Development Research. The paper offers s a systematic review of the literature on developing country GVCs to investigate the learning channels used by local firms, both within (firm level, collective level) and outside of these value chains (i.e. external sources of learning), and the extent to which this activity promotes innovation.
Here you can download the full text

FDI, Global Value Chains, and Local Sourcing in Developing Countries
With Vito Amendolagine, Andrea Presbitero and Adnan Serie I published an IMF Working Paper on whether and how the participation and position in global value chains  of host countries is associated with local sourcing by foreign investors in 19 Sub-Saharan African countries and Vietnam.
Here you can download the WP

Chinese investment in Europe: corporate strategies and labour relations
With Vito Amendolagine I have contributed to this book edited by Jan Drahokoupil and published by ETUI with a chapter on Chinese Foreign Direct Investments in the European Union.
Here you can download the full book and here is the link to my chapter.